Shotgun sequencing
---
Creative Genomics provides sequencing service for long DNA fragments in large plasmids such as BAC, Fosmid and Cosmid, as well as whole genome shotgun sequencing. In each large-scale sequencing project, a project manager oversees every step and informs clients about the progress in a timely manner.
Services include:
Shotgun library construction
Library quality control by sequencing 96 clones
Clone picking and arraying into 96- or 384-well plate
Plasmid DNA preparation
Large-scale sequencing by ABI 3730xl
Contig assembly
Gap closure by primer walking
Genome coverage >99.9%
Template DNA and bioinformatics annotation available
Assembly:
An effective collaboration between bioinformatics and nucleotide departments is essential for successfully reconstructing the original sequence from the reads. In addition to the semi-automated assembly utilizing programs such as Phred, Phrap and Consed, manual curation is applied by senior bioinformaticians to eliminate potential mis-assemblies. Supplementary strategies include primer walking and/or direct PCR sequencing. Paired end DNA sequence information is used to resolve repeat sequences and maximize the level of contig alignment. Furthermore, our in-house annotation pipeline is able to extract and display valuable information from the sequences.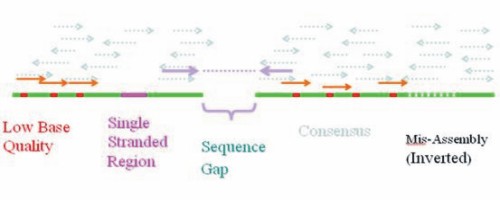 Deliverables:
Final report includes raw sequence texts, trace data and consensus sequence files.